6 Home Improvement Projects to do Before the 4th of July
It is easy to tell when summer has arrived in earnest. Temperatures soar and so do energy and water bills. By the time the 4th of July rolls around, everyone's thoughts have turned to daydreams of refreshing pool swims, beach adventures, and relaxation.
These 6 home improvement projects can help you save money on utility bills and get your home ready for welcoming guests on this special holiday.
Clean and Refinish the Deck and Fence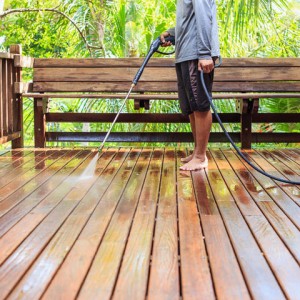 Turn off the power.
Turn off the cold water supply valve.
Turn on the hot water and leave it running.
Put on heat-protective gloves.
Hook up the hose to the water heater drain valve while the hot water is still running.
Be sure the other end of the hose is located in a bathtub, bucket or outdoors!
Open the drain valve and let the water drain out.
When the water finishes draining, open up the cold water valve again to flush out sediment.
Close the valve and remove the hose.
Run the hot water spigots again while refilling the water heater tank with cold water.
Restore power to your water heater.
If you don't feel confident performing this task correctly, it is safer to call a professional!
Invest in Energy Saving Window Treatments
One of the best ways to achieve energy efficiency in months of extreme temperatures is to give your windows and window treatments some dedicated attention.
If you have the resources and time, you may want to consider replacing your existing windows with Low-e windows, which can repel heat from the outside sun and also block harmful UV rays from streaming into your home.
If you have already made this switch or now is not the time, you can achieve a similar effect by working to upgrade your window treatments. Today there are many energy efficient window treatment options for keeping your home cool in summer and warm in winter.
Here are some popular choices:
Installing awnings on South/West-facing windows to block the sun.
Using window film to repel heat and UV rays.
Installing light-colored drapes or blinds to reflect the heat back away from your windows.
Installing eco-friendly wood shades (hemp and bamboo are good choices) to block and repel the heat from the sun.
You can also just close your drapes or blinds during the hottest part of each day to keep the heat outside and a cool temperature inside.
These 6 home improvement projects can make you feel really confident about opening your home up to family and guests this summer on the 4th of July and for other festivities. It can also just feel great to improve your home space for your family's enjoyment.
To save money on summer energy bills in Alexandria, VA, contact Cyprus Air Heating and Cooling at 703-765-9400.