Woodbridge AC Repair, Installation & Replacement
Don't leave your AC to chance! Call Cyprus Air at (888) 775-5640 today for expert Woodbridge AC repair, installation and replacement you can trust. We're dedicated to working with you to solve all of your air conditioning needs as quickly and as cost-effectively as possible, which is why we offer a variety of coupons and discounts on our services! Visit our coupons page to learn more.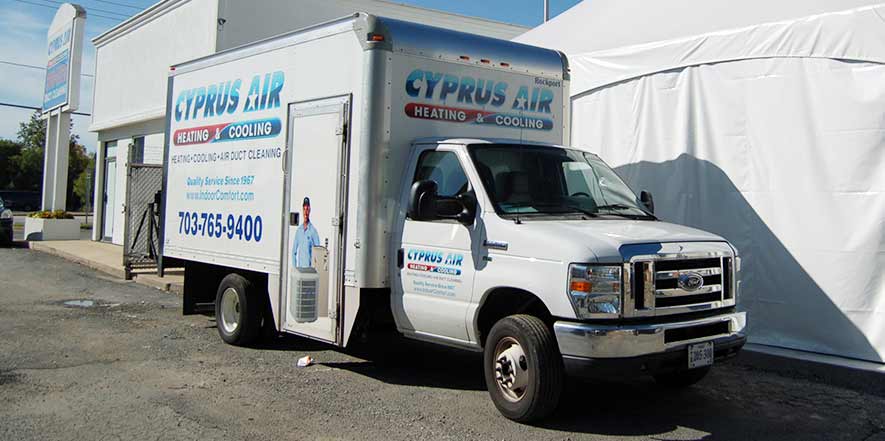 Your Woodbridge Cooling Experts
Did you know that Cyprus Air has been in business for 40+ years? It's true! We've been serving the residents of our fine community in Woodbridge, VA with the highest quality cooling services for over four decades, and we're always working to hone our skills so we can serve you better.
That's why we regularly ask our customers for feedback, and publish your comments on our website for everyone to see. Transparency is as important to us as quality, and we want to show you why your neighbors have been working with us for over four decades. Visit our reviews page today and find out more!
We're available to you 24/7 to assist with diagnosing and solving your air conditioning issues, and will work with you to decide on a plan together. Our technicians, who are all fully licensed and insured, will consult with you before starting to work to determine your needs. This means we'll discuss your financial, efficiency, and air quality needs before they begin working, so you always know what to expect: the highest quality service, a plan that works for you, and results that will leave you happy 100% of the time – we guarantee it!
Let's Work Together
We know that during our warm Virginia summers, staying cool is crucial to staying comfortable, happy, and productive, which is why we're dedicated to making sure that your cooling system is always working when you need it the most.
Our technicians are equipped the the highest quality tools for the job, which means that we can work more quickly and efficiently than our competitors, saving you time, money, and the headache of having a broken air conditioning system.
In addition to helping you solve your cooling issue in the moment, we also offer our customers peace of mind by scheduling regular maintenance and checkups, so we can inspect your system and make sure everything is always working as it should. This allows us to detect possible issues before they start, which means that we can work with you to decide on a plan of action to deal with it before it becomes an expensive endeavour.
The experts at Cyprus Air are dedicated to helping you stay cool, and to doing so at affordable prices. We're always ready to work with you to stay cool, so call (888) 775-5640 for speedy, efficient air conditioning in Woodbridge, VA today.