Gaithersburg AC Repair, Installation & Replacement
Worried about keeping cool? Cyprus Air is here to help! Call us at (888) 775-5640 today for expert Gaithersburg AC repair, installation and replacement. We've been keeping residents and businesses in Maryland cool for over four decades, so you know that you're getting expert advice and skill you can trust, every time! Click here to see our range of online coupons and specials.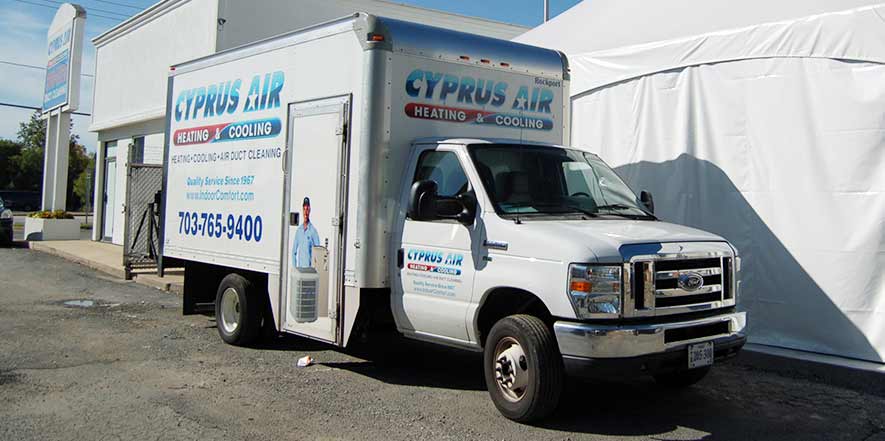 With our 40+ years in business we've developed a reputation as one of the most dependable and professional AC repair, installation, and replacement companies in Gaithersburg. We know that you trust the opinions of your friends and neighbors, which is why we regularly publish your feedback! Visit our reviews page and discover why we've been in business in Gaithersburg, MD for so long!
A Little About Us…
Cyprus Air is your local go-to expert for cooling in Gaithersburg, with over four decades in the business and a deep understanding of all makes and models of cooling systems, AC units, and more.
Because we're small business owners we understand the value of a dollar, and we know that spending money replacing an old AC unit, or even installing a whole new system, can be a daunting prospect for even the most frugal savers! This is why we offer flexible financing options and discounts on our services.
Your Gaithersburg Cooling Experts
We offer the highest-quality cooling expertise and service in Maryland, from repairs, to maintenance, the replacing of old equipment and installing a brand-new system to keep you cool when you need it most, we're always ready to help, and offer you a 100% satisfaction guarantee.
When you call the experts at Cyprus Air, not only can you be sure to get a full certified, licensed, qualified technician who will arrive with the knowledge and practical skills to get the job done, but we'll also be carrying the best equipment available.
Making sure we're using the best equipment not only makes our technician's jobs easier because newer tools are more powerful, but it takes less time to do the work because recent advances in technology allow us to be more efficient. This saves you time and effort, and lets you get back to living your life sooner!
Whatever your issue, we've got a solution. We'll assist with repairs and maintenance, and schedule regular checkups and inspections to make sure that everything is running as it should, so you don't have to worry about it.
Make sure your air conditioning unit is always running perfectly to keep you cool by calling the experts at Cyprus Air. We're always ready to visit your home or commercial business and assist with whatever AC issue you might be experiencing: from installations, to repairs to scheduled maintenance, we're here for Gaithersburg, MD at (888) 775-5640, so call today!