Fairfax AC Repair, Installation & Replacement
Do you need expert Fairfax AC repair, installation or replacement? Call Cyprus Air at (888) 775-5640 today for quick and professional service you can trust. Our technicians are available to assist you 24 hours a day, 7 days a week, 365 days a year, so don't hesitate to call us now!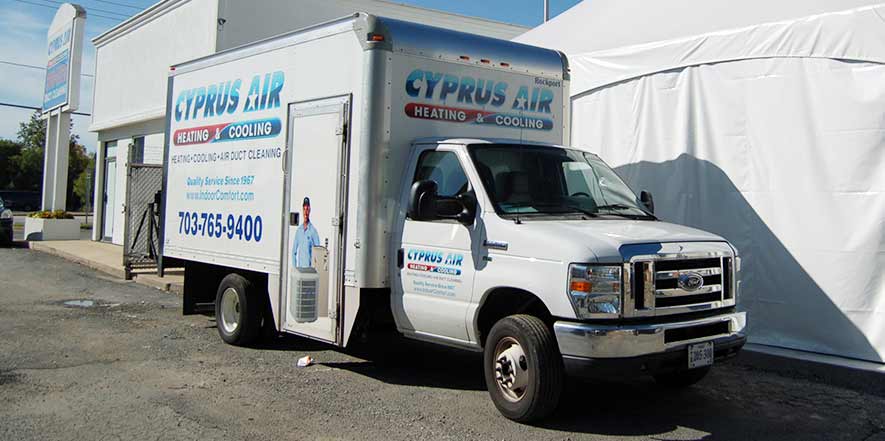 We proudly serve the residents of Fairfax with quality AC installation, repair and maintenance, and we're pleased to offer competitive pricing which puts us above the competition. Visit our coupons page to find out how you can save today!
Want more evidence that our trained technicians and quality products are the best option for your residential or commercial cooling needs? Visit our reviews page and see what past customers are saying about our work, and why they continue to choose Cyprus Air to assist with all their AC needs.
About Us
Cyprus Air is a locally owned and operated business in Fairfax, VA which means our name is as easily recognizable as the high quality of our work. With over 40+ years in the air conditioning repair, installation and replacement business we have the skills, knowledge, and attitude that has turned many one-time clients into long-term, dedicated customers.
We offer the highest-quality cooling services in Fairfax, VA and service both residential homes and commercial businesses alike. Our technicians are fully certified, insured, and licensed to work in the state of Virginia, which means you can always rely on the highest-quality service when you need it the most.
We Want to Help!
Let us help you make AC worry a thing of the past! if you're currently experiencing an issue or emergency with your cooling system, we're happy to help diagnose and solve it, whether that means a simple repair, or installing a whole new system. We'll also help you avoid costly repairs and maintenance in the future by scheduling regular checkups to ensure that everything is running smoothly, meaning that you'll always be cool and comfortable when you need it the most.
Our technicians always use the highest-quality equipment, which means less hassle, less time spent on a single task, and an eco-friendly footprint that we're proud of. Using the best tools for the job and making sure our employees are all fully trained and certified to handle any cooling issue means we can confidently guarantee each and every one of our customers – including you! – a 100% satisfaction guarantee every time.
At Cyprus Air we offer fast, efficient cooling services to the residents of Fairfax, and we're committed to making every experience – from a tune-up to a brand-new installation – a positive one. Call us today at (888) 775-5640 to find out how our technicians can help keep you cool.