Gaithersburg Heating Repair, Installation & Replacement
Give yourself 24-hour comfort by calling Cyprus Air at (888) 775-5640 for expert Gaithersburg heating repair, installation and replacement you can trust. We're dedicated to keeping you warm by providing quality service when you need it! Even better, we offer coupons on our services, so make sure to visit our coupons page before you pick up the phone for your next appointment.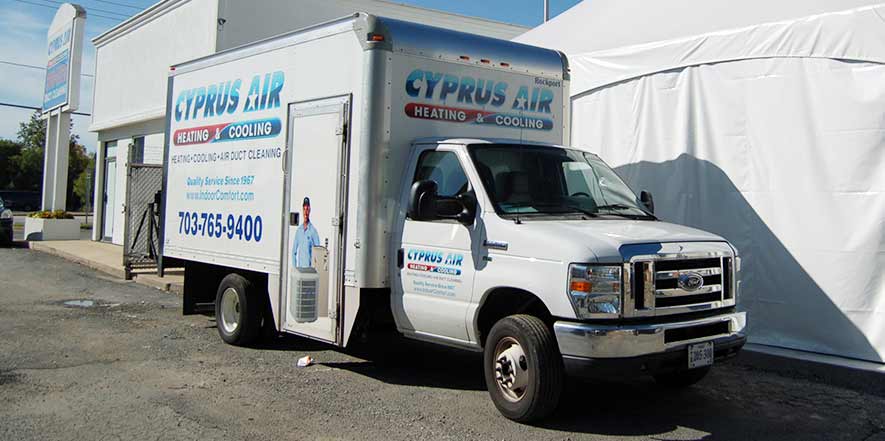 Want to know why we're the go-to heating guys in Gaithersburg, MD? Visit our reviews page and see what our customers have shared with us about the quality and professionalism our technicians show at every visit!
Why Call Us?
Cyprus Air has been providing the residents and businesses in Gaithersburg with top-level heating service for over 40+ years, which means we have the decades of experience and practical knowledge to understand exactly what buildings in Maryland need to stay warm and cozy when it's needed most.
Because we're locally owned and operated, we're able to develop long-term relationships with each of our customers. This allows us to gain a deeper understanding of your residential home or commercial business, the systems you use, age, special "quirks", and other issues and information that can get lost on a single visit.
When we can understand your heating system, we can understand what you need and provide expert service and advice before a small issue becomes a major problem. We actively work with you to develop both short and long-term heating plans, so you always have peace of mind knowing that a certified expert from Cyprus Air has your heating needs in mind.
Our relationships with our clients aren't just built on longstanding service, but on trust. We work hard to earn and keep your trust, and to build on it with every visit. We're dedicated to helping you make the best choices for your situation, and will always work with you to find practical, liveable, and affordable solutions to your heating system issues.
Let's Work Together
When you call the technicians at Cyprus Air, you can count on getting a certified, professional technician dispatched to you as quickly as possible, armed with experience and the best equipment money can buy.
We're happy to visit you and help you assess a problem, find a solution, and work together to make sure that everything is in proper working order. We're happy to help! From the smallest repair or fix to a total overhaul and replacement of your heating system, we're proud to offer our services to the residents of Gaithersburg.

Your subscription is not active
Please visit the admin site to re-activate your subscription
Don't rely on an old water heater to keep you warm; depend on the professionals at Cyprus Air for friendly, quality service in Gaithersburg, MD by calling

(888) 775-5640

today.