Woodbridge Heating Repair, Installation & Replacement
Worried about your heating system breaking down? Call the experts at Cyprus Air today for reliable Woodbridge heating repair, installation and replacement. Our technicians know that staying warm is crucial to staying comfortable, which is why we're proud to help keep the residents of Woodbridge, VA warm and cozy. Click here to look through our exciting online specials and coupons.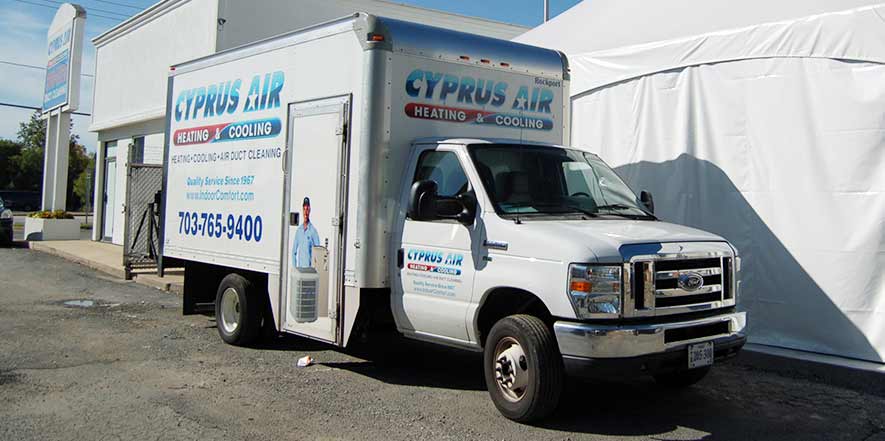 Want more proof that we're Woodbridge's heating experts? Visit our reviews page and see what your friends and neighbors have said about the quality of our work! We'll get your hot water tank or fireplace working again in no time flat.
Your Woodbridge Heating Experts
With 40+ years in the heating repair, installation, and replacement business, you know that you can trust the experts at Cyprus Air to be prepared with the tools, knowledge, and skills to solve your heating issues as quickly as possible. We make sure that all of our technicians are fully trained, certified, and insured before they go out on the job, so you can count on the highest degree of service and expertise with every visit.
Because we know that heating issues need to be solved as soon as possible, we always work with our customers to develop plans which take their financial, air quality, and efficiency needs into consideration before we start to work. We're proud to offer flexible financing options and discounts on our services.
Once we've arrived, our technician will assess the situation and provide you with a solution catered to your unique situation. In this way, we can be sure that we're always offering you the highest level quality at prices you can afford.
How Cyprus Air is Different
In addition to the exceptional level of our repair and emergency services, the experts at Cyprus Air are dedicated to helping your home or commercial business stay warm when you need it the most, which means providing regular and ongoing maintenance on your heating system.
While we're always happy to step in during an emergency, we believe that by offering ongoing, high-quality maintenance and inspections, we're able to offer the best quality services to our clients at the lowest prices.
Ongoing maintenance from a certified professional means you can count on an expert to inspect your heating system, do repairs as needed, and alert you to possible issues before they happen, so you can plan and prepare the best way to handle it before it becomes an immediate concern. We believe that this peace of mind is one of the most valuable things we offer our customers.

Your subscription is not active
Please visit the admin site to re-activate your subscription
Don't let cool weather get you running for cover! Make sure your home or commercial building is comfortable whenever you need it by calling the professionals at Cyprus Air. We're proud to keep you and your loved ones in Woodbridge warm! Call

(888) 775-5640

today.